WAX CANDY
THE WAX BAR STORY
WAX SCOTCH SDN BHD 202001002653 (1358972-T)​
Wax Candy the wax bar was established in 2016, A Waxing lifestyle is one which helps to keep and improve people's hygiene and well-being. Wax Candy The Wax Bar have made big efforts in "hygiene lifestyle" and health promotion. It helps to benefit your critical health numbers whereby to provide you your personal hygiene in the most cosy and friendly environment in our wax bar.
Hygiene living is a lifelong effect. With our professional trained and friendly consultant and therapists, we would like you to leave your worries and nervous to us as we will take your emotion to our own feel.
Just feel relax and ease your mind when coming to our wax bar and let us do the rest. As our slogan
"BEAR in BARE" Waxing is a necessity, be bold, be confident, be a lifestyle "
Waxing is a form of hair removal that removes the entire hair from the hair follicle. Warm wax is applied to the skin and adheres to the hair. When removed, the hair is pulled from the root. Waxing is one of the best method to temporarily remove unwanted hair.
It is more effective than other method because it removes hair from within the roots, unlike shaving, it just cut the hair from skin surface. Waxing is good for those who are tired and hassle of shaving several times per week. It was recommended 4-5 weeks for the waxing treatments.
Waxing not just remove unwanted hairs, it also help to remove the dry and dead cells from the skins. Waxing will make your skin feel smoother longer without feeling itchy, because of slower hair regrowth.
ADT - ADVANTAGE DIODE TECHNOLOGY
ADT(Advance Diode Laser Technology) was the latest and effective hair removal method that deliver high energy, low fluence pulses can be effectively used on all skin types and colour.
The selectively dynamics of light enters and absorbed by root of hair follicle converted into heat to damaging the hair follicle tissue. These will cause the hair loses regeneration, destroys the hair root and blood flow to the hair follicle hence disabling the hair growth permanently. And this will make the hair follicle shrinks, the hair in the pores fall off naturally.
DPL is Dynamic Pulsed Light which was the latest technology of combining IPL and Laser power for semi-permanent form of hair reduction. These method was where using the laser light converted into heat energy. the heat will loosens the hair and disable the follicles which then destroy the hair and surrounding root hence disabling it from future hair growth. With this technology, you are expected 70-85% permanently hair reduction.

Treatments are quick
laser hair removal treatments are quicker than you might expect. For example, it only takes 25 minutes to perform a treatment on the underarm and Brazilian area.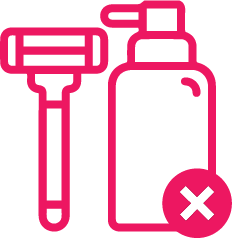 You will save more in the long run
with the permanent reduction of hair, you no longer need to purchase endless razors, shaving cream and no longer need to have monthly waxing appointment.
You will save time
laser hair removal eliminates the need to shave daily. Add that up over a lifetime and just think how many weeks you spend with a razor in hand.
You can eliminate and prevent ingrown hairs
is simply the best option and the only solution to prevent and eliminate ingrown hairs.
Being hair free isn't just for woman, many men are enjoying eliminating their unwanted back, chest, boyzilian and other body area hair. More and more chaps are choosing to wax over any other hair removal method. Less irritating than shaving and more attractive than buzzing down, waxing also lasts a heck of a lot longer, cutting down on your daily hair removal regimen and especially for who wants to look great!
1 course of 6-12 treatments
in 3-5 years
Gumme Soothing Serum 50ml
WAX SCOTCH SDN BHD 202001002653 (1358972-T)
Operation Hour:
Monday - Friday 1030AM - 0800PM
Saturday & Sunday 1000AM - 0600PM
Office Number: +603-7971 9999 / +603-7972 1999
Wax Candy (Damansara Uptown)
WAX SCOTCH SDN BHD 202001002653 (1358972-T)
Operation Hour:
Monday - Friday 1030AM - 0800PM
Saturday & Sunday 1000AM - 0600PM
Office Number: +603-7722 5277
WAX SCOTCH SDN BHD 202001002653 (1358972-T)
Operation Hour:
Monday - Friday 1030AM - 0800PM
Saturday & Sunday 1000AM - 0600PM
Office Number: +603-8011 1156
We're looking for Beauty Therapist, Manager, Assistant Manager.